Copper concentration equipment, copper beneficiation plant
-----Does gravity separation work for copper ore upgrading?

Jig is kind of common gravity separator, and it has been widely used in beneficiation of iron, manganese, gold, tin, tungsten, mercury, celesite, barite, flourite and so on. But is this gravity separation working for copper upgrading?

There is native copper, chalcopyrite, bornite, chalcocite, azurite, covellite when it comes to copper ore. As kind of important ore in metallurgy industry, the copper grade is usually very low, and most copper ore needs further upgrading for smelting. The main beneficiation way for copper ore is floatation separation, and all copper ore can be upgraded by floatation separation. Only the efficiency and recovery is different. Here are some copper gravity upgrading pictures for your reference: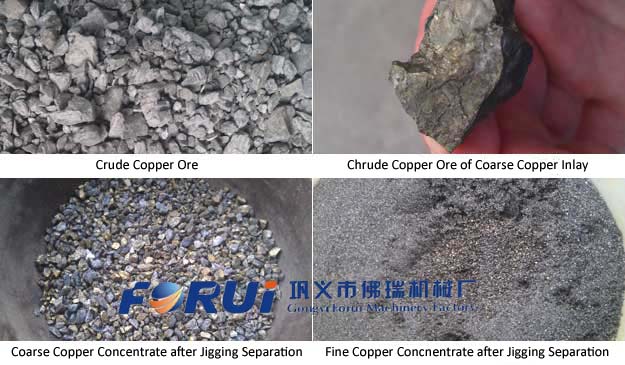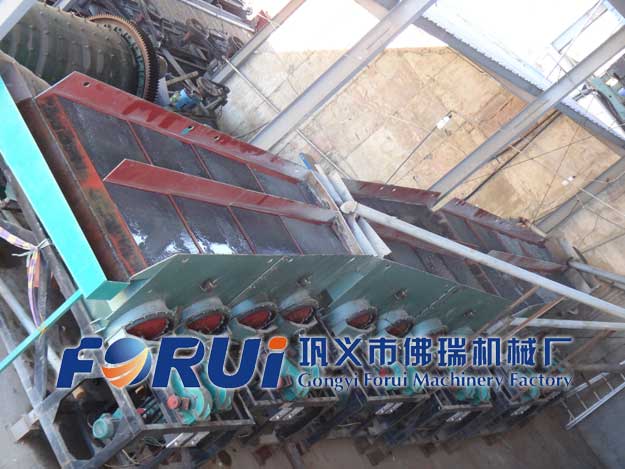 In China, floatation separation has been used for most of copper miners. However, the coper content can be even 30% some times, and there are obvious copper granules, and considering the gravity separation of scheelite in Nigeria, Forui gives an idea of copper gravity separation for some copper ore.

The copper mineral is fine inlay in the quartz rock with clear boundry and big specific gravity. For this kind of copper ore, gravity separation works really great to get final high grade copper concentrate with good efficiency and high recovery. And gravity separation here can work as rough separation or pre-separation of the copper ore by removing most of impurities, and this will lower the beneficiation cost when floatation separation is involved only.

However, if the copper is even and fine mixed in the ore, and the copper granules need milling to liberate or dissociate from the impurities, floatation separation will be a much better choice to get the ldeal efficiency and great recovery.

In sum, the most beneficiation methods for copper ore depends on the ore itself. Here Forui has perfect trial testing machines to supply test for clients. Free test can be done if samples about 15-20kgs can be available. We have been in mineral separation field for over 25 years and here we can share more about mineral separation. You are always welcome to Forui. If any need or question, just contact us.



iron upgradig equipment, gold enrichment machine, manganese upgrading plant
Skype: ForuiMining
Tel: +86-371-64391589 +86 18037167566
Email: sales1@frjig.com
Your Contact Details To Us
(*)Required information