Movable Sieve Jigging Machine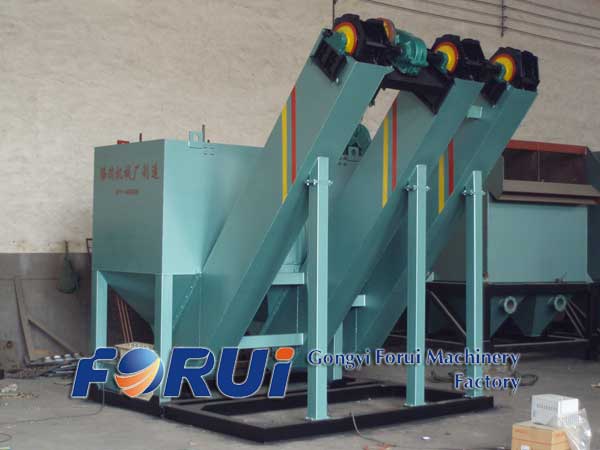 Working Principle:
Sorting according to the proportion difference between ore and gangue,different wight mineral raw materials has
different sedimentation rates in the vertical flow, large proportion of mineral sedimentation rate is faster,occupy
the bottom of sorting slot in jigging machine, small proportion mineral sedimentation rate is faster, occupy the
top of sorting slot in jigging machine, through the special poling board, discharging the different minerals
respectively, realize the effect of sorting according to the proportions.

Advantages:
1, Small coverage, large handling capacity, ore concentrate and ore tailings discharging through material
conveying device.
2, Less water, movable sieve jigging machine through sieve vibration for mandatory material stratification,
no need for water pressure, only need add water loss, water consumption is one-tenth of common jigging
machine.
3, Stroke, flush times is adjustable, use advanced frequency control technology, easy operation and
management.
4, All moving parts adopt automatic hydraulic oil supply lubrication, ensure moving parts service life and working
reliability.
T
echnical Parameter:
Screen Area
( m2)
Feeding
Size
(mm)

Handling
Capacity

(T/h)

Stroke
(mm)
Stroke
Frequency(times/min)
Bucket
Power
(KW)
Movable
Sieve
Power
(KW)
Overall
Dimension
(MM)
Weight
(T)

2.9

30-50

20-25

10-80

0-180

4

7.5

5125*3795*3554

10.3
Your Contact Details To Us
(*)Required information