Wolfram Tungsten Ore Equipment for Tungsten Dressing or Wolframite Processing
Wolfram is kind of essential mineral to get tungsten, and it is usually inlayed in granite and quartz together with cassiterite. Wolfram is weak magnetic with its density of 7.2-7.5g/cm3 and mohs hardness of 4-4.5.
The process of wolfram dressing is mainly gravity separation while sometime intensity magnetic separation can be involved. Wolfram tungsten ore is usually inlayed with coarse granules with big density and small hardness, so the specific separation or concentration of wolframite tungsten can be pre-selection, gravity separation after screening & classifying, intensity magnetic separation and treatment of fine tungsten mud.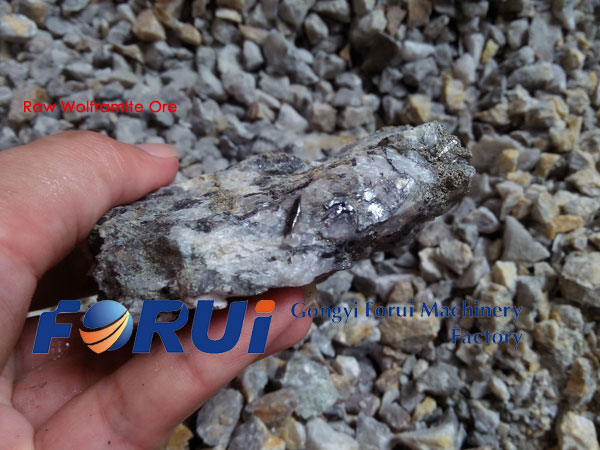 Raw Wolframite Ore
The big density difference between wolfram and gangue makes gravity separation workable if the wolframite tungsten granules can be liberated or dissociated from the impurities. For the coarse tungsten or blocky tungsten separation, gravity separation can be used to get the coarse wolframite granules. Here the main wolfram dressing plant is jigging machine. The wolfram ore concentration machine can deal with ore of +80 meshes to 30mm. For some finer tungsten ore, shaking table or other equipment can be used to get the fine wolframite grains.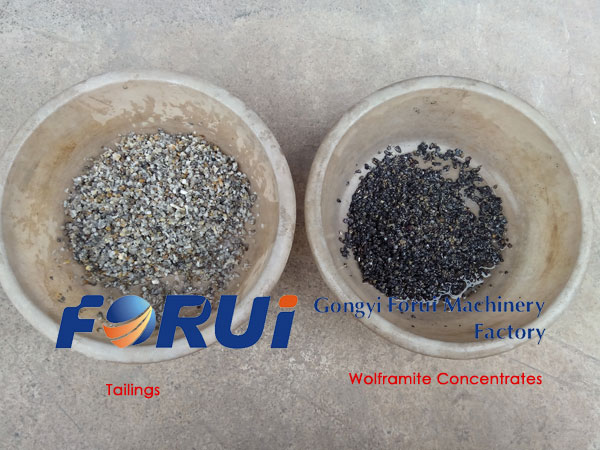 Wolframite Concentrates After Jigging Separation
In the gravity separation of wolramite tungsten, the common processing plant can be jig separator and shaking table. Jigging machine is especially important to beneficiate wolfram tungsten of coarse and medium granules. The raw wolframite tungsten needs crushing and screening before jigging processing to gain high grade tungsten.
As kind of wolfram beneficiation machine, jig has been added to the circle of milling in order to reduce the pelitization of tungsten. The tungsten concentrate from jigging gravity concentration occupies a big part of the whole concentrate.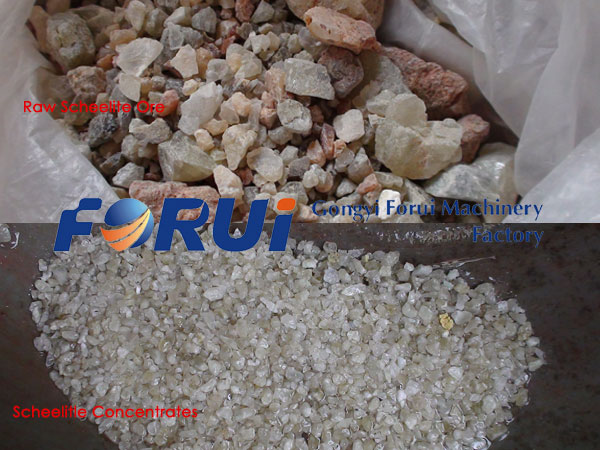 Scheelite Enrichment by Jigging

Scheelite Beneficiation Workiing site in Nigeria
Shaking table is to separate wolfram of fine grains with its good enrichment ratio, great beneficiation efficiency. So the classifying of raw wolfram ore is necessary before separation.
Gongyi Forui Machinery Factory is a professional manufacturer of kinds of mining beneficiation equipment, and we have perfect trial testing platform to supply free test for clients. A detailed flow sheet with plant details can be designed for you according to the mineral nature and test situation. Skype of ForuiMining can be available for 24 hours and you are always welcome to our company.
iron upgradig equipment
,
gold enrichment machine
,
manganese upgrading plant
Skype: ForuiMining
Tel: +86-371-64391589 +86-18037167566
Email:
sales1@frjig.com
Your Contact Details To Us
(*)Required information