Diamond Factice Separator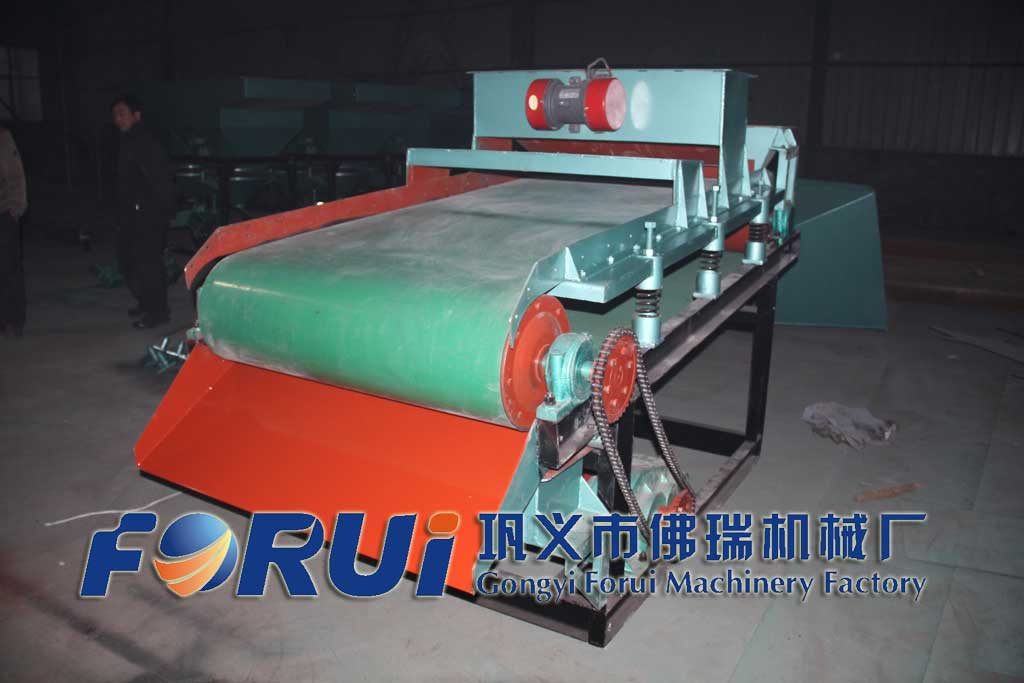 Illustration:
Diamond mining beneficiation of Factice makes use of oleophylic and hydrophobic nature of mineral surface. This factice mineral separation needs factice to capture the useful mineral granules to upgrade the ore. This separation method is mainly used in diamond mining beneficiation. Diamond is kind mineral of carbon crystal with its oleophylic and hydrophobic nature. And factice separation makes use of this point to capture the diamond.
Working principle of diamond factice separator:
When diamond concentrate from rough separation is put on the separation belt with factice and the water begin to wash as well. The oleophylic and hydrophobic mineral will attach to the factice belt while the oleophobic material will be not attracted by the factice but washed by the water to be tailings. And the diamond attached to the factice needed deoiling and drying to get the final diamond concentrate and to recycle the factice. The fed material of factice is usually rough concentrate from
diamond jig gravity separation
with its size of 0.5-5mm.
Working processing of diamond factice separator:
In most of diamond mines, factice separator is mainly used as fine selection separator and the following is about more information about the processing of diamond factice separator. Its separating section is separation rubber belt with both ends attached to the preliminary round and tailblock, presenting a certain inclination with the horizontal level. As the diamond factice separator picture shows, the preliminary round and tailblock is installed on the main machine body. The material will be fed to the separation rubber belt through the vibrating feeder. There is a water pipe over the separation belt with the factice box installing at the end of the tailblock. The heated factice can coat the rubber belt. Heated scraper at the end of the preliminary round can scrap the factice attached with diamond granules. The scrapped oil can be deoiled and the diamond concentrate can be finally gained while the material can not be attached to the factice can be washed to the tailings slot.
| | | | | | | | |
| --- | --- | --- | --- | --- | --- | --- | --- |
| Model | Feeding size | Belt speed | Belt inclination | Water consumption | Oil thickness | Vibrating frequency | Amplitude |
| 2000*1000 | 0-6mm | 0.61m/min | 2° | 1.8m³/h | 5-8mm | 1100r/min | 10mm |
Your Contact Details To Us
(*)Required information