Upgradation Chart and Beneficiation Method for Coarse Hematite Iron Ore

Coarse hematite iron ore here means hematite iron ore with coarse hematite granule inlay, i.e., the hematite iron size is coarse after the hematite granules liberated or dissociated from the impurity gangue after crushing and screening. And the beneficiation of this kind of hematite is easy and different to that of the fine hematite inlay mine.

Generally, gravity concentration is the first way to upgrade this kind of weak hematite iron ore, and it is also the most common beneficiation method used at this moment. The intensity magnetic separation and roasting-magnetization process for hematite needs large investment and it is hard to realize large scale production due to the weak magnetism of hematite iron ore. Gravity jig concentration for hematite can be adopted to get large capacity with its small plant investment, low beneficiation cost and good beneficiation efficiency.

Coarse hematite gravity upgradation uses gravity separator to get final hematite concentrate after liberation or dissociation by crushing and screening. The gravity separator involved in the hematite upgrading is mainly jigging gravity separator. This kind of jig machine can deal with hematite iron of fine, medium, coarse size with high recovery rate and good beneficiation efficiency.

The upgradation of coarse hematite iron ore can be crushing-screening-jigging concentrating-dewatering. This beneficiation flow sheet can help to get final coarse hematite concentrate with good efficiency and ideal beneficiation indexes. The hematite ore dressing jig machine can be the jiggers in the following picture.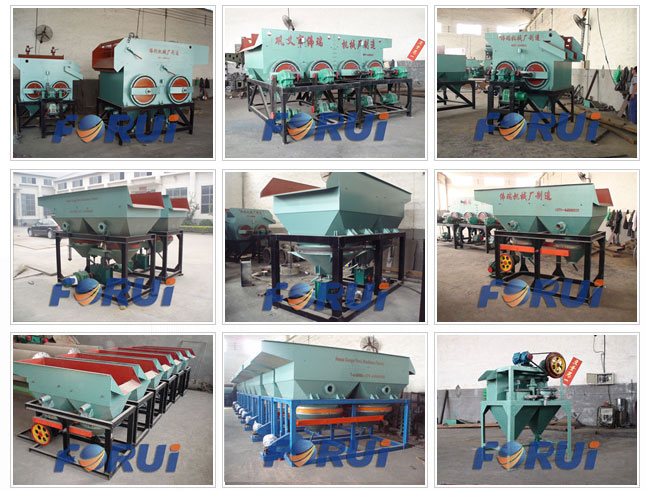 Here Forui can do free test for you with its perfect trial platform. Flow sheet and plant allocation can be designed according to the test and the requirement about the whole manganese beneficiation process. Skype of ForuiMining and Tel of +86-18037167566 can be in service for 24 hours. You are always welcome to Forui.

tin extraction equipment, gold enrichment machine, tungsten separation plant
Tel: +86-371-64391589 Mb: +86-18037167566
Skype: ForuiMining Email: sales1@frjig.com
Your Contact Details To Us
(*)Required information